2nd Insurance breakfast event
"2nd Insurance breakfast event: EIOPA 2016 Stress Tests – Get yourselves prepared" by Grant Thornton
On Thursday, 2nd June, Grant Thornton holding its commitment to always informing its stakeholders about recent developments on the economic and business environment, held a breakfast event, for second consecutive year, devoted to the recent developments in the insurance sector. The "2nd Insurance breakfast event" aimed to offer a unique opportunity for communication and exchange of opinions and ideas between insurance sector executives and Grant Thornton insurance executives at a short breakfast event – starting creatively their business day.
This year, the event focused on Stress Tests, the parameters and lessons learned from previous experience. Through presentations, we managed to provide quality information in the context of the preparation of insurance organizations for Stress Tests to be held in 2016.
Mr. Vassilis Monogios, Partner, Operational Advisory, Grant Thornton Greece, welcomed the audience and made a brief reference to the significance of the current period as well as the following years to the insurance market development.
Thereafter, Mr. Bharat Raj, Senior Manager, Financial Services Advisory, Grant Thornton UK, proceeded withhis presentation "Tips for Management", reporting on the points that need to be particularly examined by the insurance sector, in view of the Stress Tests 2016. The points presented are the result of Grant Thornton executives' long-term regulatory framework experience and knowledge, as well as supporting insurance companies comply with this framework.
Finally, Mr. Yiannis Leos, Financial Services Partner and Mr. Dimitris Kavoukas, Senior Manager, Financial Services, Grant Thornton Greece, presented Case Studies on recent Stress Tests in Southeastern Europe. They highlighted the importance of the challenges, the guidelines issued by the supervisory authorities and the results of these Stress Tests.
The "2nd Insurance breakfast event" was attended by top executives of the Greek insurance companies and was followed by a light meal and a discussion on the presented issues. The attendees stated their willingness to renew the event next year.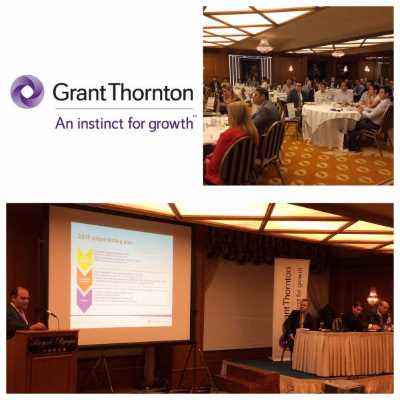 For more information, please contact:
Marketing & Business Development Department
T: 210 72 80 069-70