"Investment Risk and International Dispute Resolution" Conference
The global disputes law firm Quinn Emanuel Urquhart & Sullivan, the international accounting and consulting firm Grant Thornton, and the School of International Arbitration at Queen Mary, University of London co-sponsored a highly anticipated and impactful conference titled "Investment Risk and International Dispute Resolution" in Athens, Greece on 15 and 16 May 2014.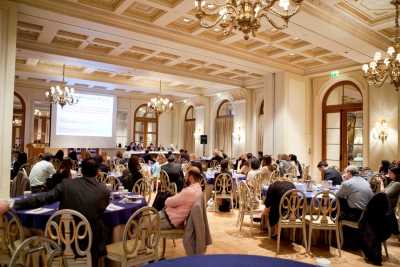 The conference, which took place at Hotel Grande Bretagne at the center of Athens, was conceived by Mr. Epaminontas Triantafilou, an international dispute resolution Counsel at Quinn Emanuel in London, and was held thanks to a joint effort between him, Grant Thornton Partner in Athens, Mr. Apostolos Papadopoulos, Grant Thornton in Athens Senior Manager Constantine Poulios and Professor Loukas Mistelis at Queen Mary University in London.
The conference was attended by numerous representatives of large corporations, Greek and foreign law firms, and various agencies of the Greek government. It featured many high-profile speakers from Greece and abroad, including the Secretary-General of the Ministry of Justice Mr. Nicholas Kanellopoulos, the Vice-President of the Greek Council of State Mr. Michael Apessos, as well as Stephen Jagusch, Philippe Pinsolle, Richard East and Epaminontas Triantafilou from Quinn Emanuel; Will Davies, Colin Johnson and Constantine Poulios from Grant Thornton; and Professors Loukas Mistelis and Rodrigo Olivares-Caminal from Queen Mary University.
Other eminent speakers and participants included Mr. Aristomenis Syngros, Chairman of Enterprise Greece; Ms Anny Ketentzoglou, General Counsel of OPAP; Mr. Christos Hadjiemmanouil, Professor at University of Piraeus; Mrs. Stella Charitaki, Legal Counsel at the Legal Council of State; M.r Nicolas Vernicos, Chairman of ICC Greece; Professor Bryan Clark, Head of Strathclyde Law School; Professor Panayiotis Bernitsas, Managing Partner of M&P Bernitsas; and Dr Antonis Tsavdaridis of IKRP Rokas & Partners.
The conference speakers and panellists covered a broad array of topics in the course of two days. The first day was opened by Secretary General Kanellopoulos, himself an eminent lawyer and the driving force behind legislation promoting mediation and alternative dispute resolution in Greece. Thereafter the discussion focused on the strategic options confronted by an investor in the context of domestic litigation, international arbitration, and mediation, and the ways in which investors can mitigate risk in the course of planning their investments. The second day was inaugurated by Vice President Apessos, who offered valuable insights into international arbitration from the perspective of the Legal Council of State. Then the panels focused on the strategic advantages of Greece as a target for investment, and the ways in which Greek companies and the Greek state can become successful, confident players in the field of international investment and dispute resolution. The conference was highly interactive, with members of the audience engaging the panels and stimulating meaningful exchanges.
Download the full Press Release Word document here.
For more information, please contact
Mr. Apostolos Papadopoulos
Partner, Head of Government & Infrastructure Advisory
E: apostolos.papadopoulos@gr.gt.com