Grant Thornton: National Champion στα European Business Awards 2014/15
Grant Thornton SA has been named "National Champion" in the European Business Awards 2014/2015 sponsored by RSM
Grant Thornton, one of the 60 Greek National Champions of European Business Awards 2014/2015 sponsored by RSM was announced as a National Champion on Thursday, January 15, 2015 at an exclusive awards ceremony held at Aigli Zappeiou by RSM Greece and European Business Awards.
European Business Awards sponsored by RSM are the only European business awards with international status. It is an independent NPO that recognises and rewards excellence, best practice and innovation in companies across the European Union. It constitutes the largest and most significant competition among businesses operating in various sectors of the economy. The Awards focus on companies which have recorded excellent results in 10 categories, from environmental awareness to customer service; results which place them in leading positions across Europe. The competition is free to enter and open to organisations of all sizes, from any industry sector.
It is to be noted that 24.000 companies from 33 countries of Europe took part in the competition this year. The total number of National Champions was 706, while 60 of them were Greek companies. 60 National Champions of our country, including Grant Thornton SA, qualified to the next stage of the competition, and will be assessed by judges based on video presentations they already submitted and uploaded to the awards website. In line with the judges' assessment, public vote will take place, highlighting the National Public Champion of every country.
Our firm is competing in the category «The Business of The Year Award (Turnover of €0-25m)» claiming a place in the top ten of the final. This distinction discloses the on-going successful course of Grant Thornton SA development, which in times of crisis, opted for investing in its people, business expertise and innovation, thus doubling its size and turnover, within the last five years.
On 10th February 2015, the Chairman of Judges will announce the National Champions across Europe that will be awarded with the honorary title of "Ruban d'Honneur" and will proceed to the next and final stage of the competition. This title is provided to ten best companies across Europe for each award category. There are ten categories and therefore one hundred "Ruban d'Honneur" winners. The final winners of each category of one hundred "Ruban d'Honneur" recipients will be announced at the Awards Gala event in summer 2015.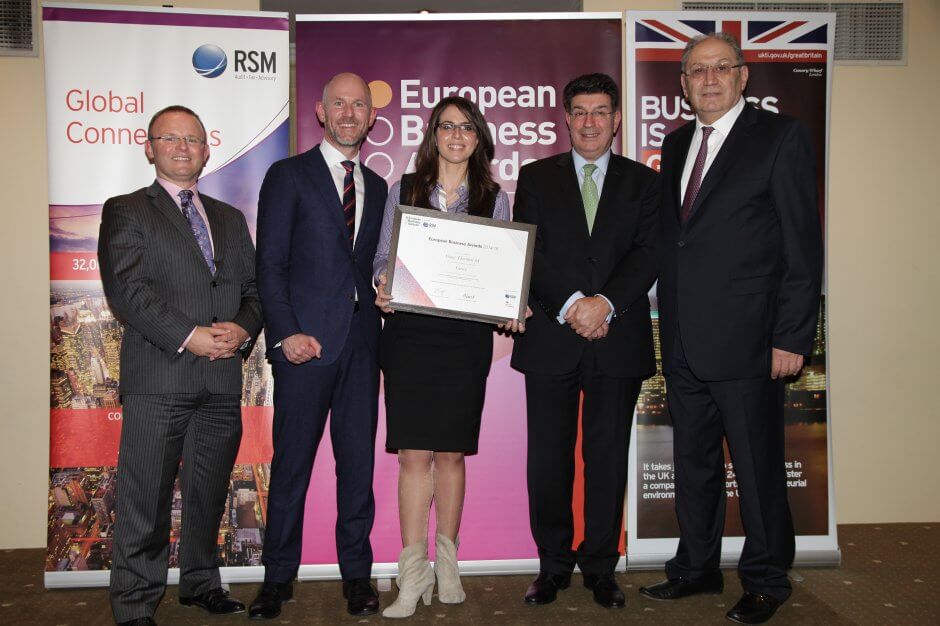 (Mrs Alexandra Baltouka, Marketing & Business Development Senior Manager at Grant Thornton, receives the Award)