Entrepreneurs' optimism in Greece reaches a new all-time low
The optimism of Greek entrepreneurs' remains negative for the fourth consecutive year, according to Grant Thornton's new International Business Report (IBR). Indeed Greece, with -28% is marked as the worldwide laggard in entrepreneurs' optimism.
The optimism rate in the second quarter of 2018 fell dramatically despite the fact that in the previous quarter optimism seemed to be recovering. Business leaders in Greece report that their pessimism is due to the economic uncertainty (84%), the regulations and bureaucracy (66%) and lack of funding (40%). It is worth noting that in the world ranking Greece is placed lower than Turkey, Argentina, Italy, Ireland and Great Britain, which faces the looming uncertainty of Brexit. On the contrary, the optimism of Spanish entrepreneurs is ranked 12th among 35 countries.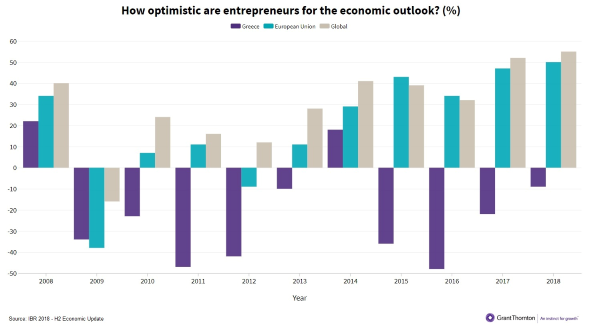 The growth initiatives that Greek business leaders' plan to implement in the next 12 months, include: the improvement of salesforce effectiveness (72%), the improvement of productivity incentives (56%), the increase of investment in marketing (38%) and the development of new products or services (28%). Furthermore, a large parentage of Greek business leaders plans to expand their business overseas (26%), as well as domestically (24%). Last but not least, Greek entrepreneurs set the recruitment of new specialist talent (22%) and the access of new sources of funding (16%) as a priority in the next 12 months.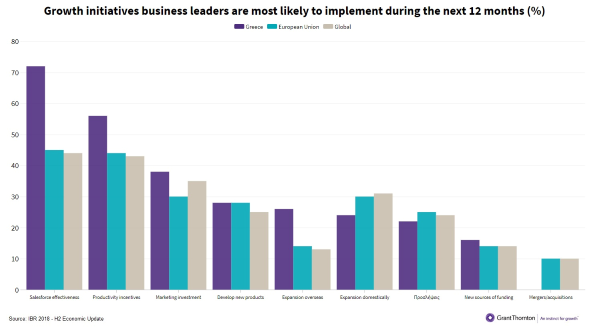 Mr. Vasilis Kazas, CEO of Grant Thornton Greece, states: "Without a doubt the signs of economic uncertainty have strongly affected our country. But Greece is not the only country dealing with uncertainty, as many big European economies have shown disappointing data on entrepreneurs' optimism. In this difficult time, Grant Thornton Greece is committed to confront the economic challenges of uncertainty with confidence and with focus on the many opportunities for our customers and people".
Economic fundamentals remain strong as widespread uncertainty fuels drop in global optimism
Following a period of heightened optimism and strong economic growth, the global outlook for businesses in 2019 is markedly more reserved as the global economic cycle cools and political uncertainty begins to bite, according to the latest research from Grant Thornton's International Business Report (IBR).
The research, which gathers responses biannually from 5,000 business leaders in 35 economies including the G20, found that global optimism is now sitting at net 39%, a significant fall of 15pp from 54% in Q2 of 2018, and the weakest score since Q4 2016.
Economic uncertainty is identified by business leaders as the biggest risk, peaking at 50%, a rise of 22pp from Q2 2018. This rise can be partly attributed to geopolitical tensions such as the US/China trade war and the upsurge of populist sentiment in many major western economies such as Italy and Spain.
European sentiment has dropped 18pp to 28% since Q2 2018, and in the UK, optimism has plummeted to 9% as the spectre of Brexit looms large. Revenue expectations are in sharp decline at net 41%, down from net 59% and profitability expectations also took a hit, down globally at net 39%, a decrease of 9pp.
However, it's not all bad news and despite the spike in uncertainty, over 60% of respondents were either optimistic or very optimistic about the future. This is reflected in export expectations with only 11% expecting a decrease and 84% of leaders expecting revenues to either stay the same or increase.
Despite the ominous global outlook and slowdown in GDP growth for many advanced economies, emerging APAC* and Latin American have broadly bucked the prevailing gloom. For example, optimism in emerging APAC is at 57%, reflective of the increasing regional economic integration and collaboration between south-east Asian countries and a reducing reliance on trade with China whose economic slowdown is beginning to have knock on effects.
Mr. Vasilis Kazas points that: "Business leaders in the real economy remain optimistic, even though these last few years the volatility of global financial markets has increased. The global GDP is forecast to continue growing and business leaders know that their business will grow with it. Many opportunities and economic fundamentals have remained strong in the global market, despite the fact that the side risk has increased".
Traditionally, in times of economic uncertainty, additional expenditure and investment seems counter-intuitive and many businesses tend to shore up their operations and significantly reduce or cease investment. However, this is a time when investing in capabilities and infrastructure can pay dividends and, when the economy turns, prudent businesses can react with speed to take advantage.
Finally, Mr. Vasilis Kazas says that: "The outlook for 2019 shows that there will be a return to normality with more balanced and sustainable growth for economies. But it is clear that this year won't be as good as 2018 for businesses globally, as the economic cycle has cooled down. With the IMF predicting global economic growth of 3.5%, predictions of a recession are the exception rather than the rule".
Further enquiries, please contact:
Department of Marketing & Client Experience
T: 210 72 80 069-70
Φ: 210 72 12222