Business Conference "Unlocking your potential for growth"
Business Conference "Unlocking your potential for growth"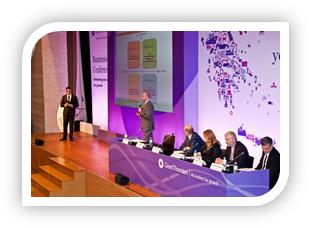 On Tuesday, December 2nd and for the 12th consecutive year, staying true to the annual arrangements with the enterprises and its commitment to integrated information, Grant Thornton Greece held the Business Conference "Unlocking your potential for growth", at the Athens Concert Hall. The conference reflected Grant Thornton's dedication to the problems and the needs of enterprises for development, focused on key entrepreneur issues and highlighted, for one more year, Grant Thornton's expertise and extensive market experience. The conference was attended by almost 800 key executives of major Greek companies and representatives of agencies and organizations.
The conference, coordinated by the distinguished journalist Mrs. Popi Tsapanidou, began with Mr. Vassilis Kazas, Managing Partner of Grant Thornton Greece, welcoming everyone to the conference and Mrs. Katerina Savvaidou, Secretary General of the General Secretariat for Public Revenue, making a keynote presentation.
Thereafter, Messrs. Manolis Michalios, Partner, Head of Assurance and Nikos Ioannou, Partner, presented the "Sectoral Analysis: Signs of Strength & Rays of Development", which refers to a new survey conducted by Grant Thornton Greece and examining key financial figures of 8.140 companies for the financial years from 2009 to 2013, reflecting the current conditions and market dynamics for various sectors of economy. . The second presentation, "Red Loans: Risks & Perspectives" focused on the specific results of a study conducted by Grant Thornton's Financial Services team and was presented by Mr. John Leos, Partner and Mrs. Athina Moustaki, Partner. Coming next, Messrs. Sotiris Giousios, Tax Partner and Vassilis Vlachos, Tax Director held the last presentation of the conference "Tax audits: mapping the maze of the audit process", highlighting the shift in tax audit for individuals, which is facilitated by indirect control techniques and other control innovations adopted by tax legislation.,
The evening ended with a cocktail buffet in the foyer of the Banquet Hall.
Download the full Press Release Word document here.
For more information please contact:
Marketing & Communications Dpt.
T: 210 72 80 067-70
F: 210 72 12222