Are You Ready for the Digital Workplace?
Connect. Think. Share. Act. Anytime. Anywhere.
A holistic approach to deliver a connected and engaging workplace experience.
Employee at the Forefront
Digital transformation starts with your employees. Your workplace culture should empower everyone in your organization transform and grow the business.
How? Evaluate your current environment and build your digital toolbox that suits your business strategy.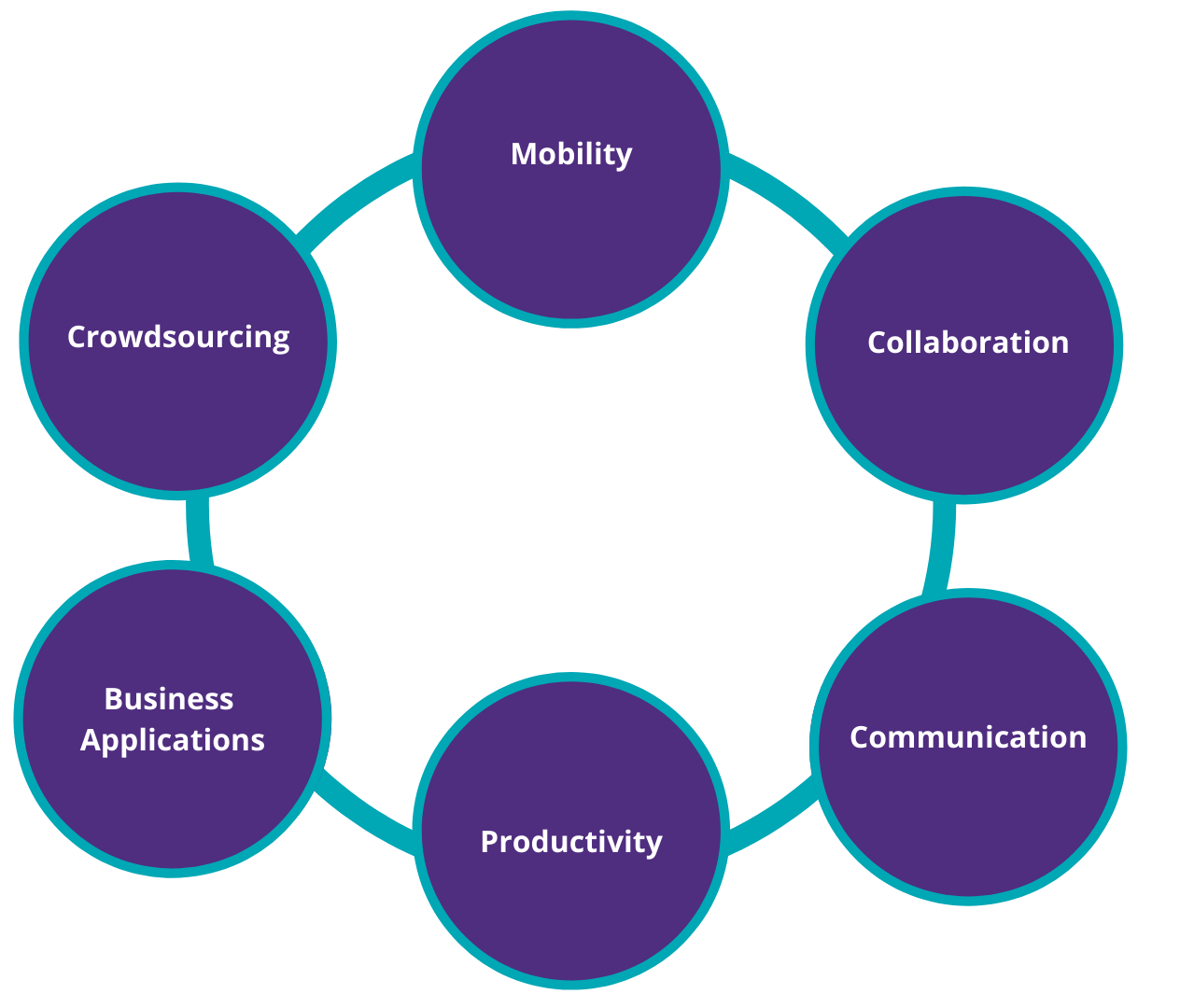 Mobility: Connected Access. Anywhere. Anytime.

- Digital Identity, Home Office 365, Mobile Workstations, Smart Devices, Network Bandwidth and Secure Access.


Collaboration: Improve employees' ability to work together.

- Virtual Rooms, High-end Audio & Video Conferencing, Instant Messaging and Office 365 Sharing.


Communication: The right information to the right audience, at the right time.

- Cloud-Based Applications, SharePoint Sites and Personalization of Content.


Productivity: Identify smart ways to improve efficiency.

- Kanban & Scrum Boards, Ticketing, Cloud Storage, Automated Reporting & Actionable Insights.


Business Applications: Self Service solutions across all business areas.

- Human Resource (Leaves, Expenses, Claims), Supply Chain (Offers, Purchase Orders, Contracts), Sales (CRM, Reporting), Finance (ERP, e-Invoicing).

Crowdsourcing

- Harness the power of the crowd to make your organization a better place to work, and a place that works better.
- Ideation, Polling, Surveys, Social Media etc.
Intelligent Operations
The quickest way to streamline your business is to look at the paper flow. This should be your starting point.
Five Essentials to help businesses pivot to Intelligent Operations and prepare for the future.
1. Talent Strategy
Creativity, agility and digital expertise as the top workforce requirements.
RECRUIT – Attract talents with right skills that fit culture
RETAIN – Mobilize internal resources
RESKILL – Upgrade Skills, Development & Coaching
REWARD – Personalize Incentives
2. Business Process Automation
Organizations have to adapt to meet the challenges of business if they want to survive against the global economic changes, business competition, new regulations, technological disruptions and especially the expectations of their customers.
Grant Thornton Digital Team will aid you in determining your business' needs and opportunities, as well as model the business processes accordingly to provide the best user experience and efficiency possible.
Review of current processes and highly repeatable activities.
Identification of optimization opportunities.
End-to-End Automation leveraging technology like AI, Machine Learning & Robotics.
3. Data-driven decision making
Capitalize on the explosion of structured and unstructured data from multiple sources to gain insights and make informed decisions.
4. Everything on Cloud
Moving toward the "as a service" economy.
Scale on demand.
Performance. Agility.
Plug-and-play Digital Services.
Business Resilience and Continuity.
Shift CAPEX to OPEX and achieve efficiency.
Holistic Security.
5. Smart partnerships
You don't have to be an expert in all areas! Build strategic partnerships to achieve your transformation goals.
Customer Engagement
Customer expectations evolve rapidly as new technologies, services and channels become available. Customers are demanding more than ever before. They expect a "digital-first" approach experience to their interactions.
"Business should be where the consumer is – not the other way around".
The key business drivers that have impact on your business
Micro-targeting customers and adoption of personalized marketing solutions to establish a strong market foothold.
Design a customer engagement strategy that addresses both digital and physical channels, unifying the experience.
Customer-facing teams need access to the right information and expertise to increase engagement, secure point-of-sale wins, and provide quality support.
Respond agilely to customer needs, create effective marketing campaigns, and increase sales.
Gain a 360° view of your customers by merging all relevant customer data from different sources and improve retention.
Setup an intelligent system that integrates data and processes between every customer interaction points.
Hyper-Personalize experience and make sure that the next time a customer comes to your site they're met with relevant content and suggestions based on their interests.