GDPR
General Data Protection Regulation
Ο νέος κανονισμός για την προστασία των δεδομένων (Regulation (EU) 2016/679), αποτελεί την τελευταία εξέλιξη σε μια σειρά νομοθετικών ρυθμίσεων της ΕΕ, "για την προστασία των φυσικών προσώπων έναντι της επεξεργασίας των δεδομένων προσωπικού χαρακτήρα και για την ελεύθερη κυκλοφορία των δεδομένων αυτών"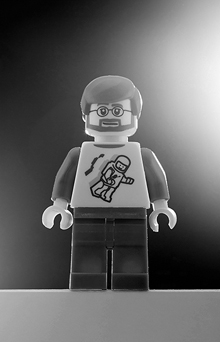 When LEGO was losing $1 million a day it appointed Jørgen Vig Knudstorp, a 36-year-old former kindergarten teacher with no experience as a CEO, to lead the company. The turnaround has been spectacular.
The gangly young man who stood in front of the LEGO board members made many of its executives uneasy. It was 2004, and the location was Billund, Denmark, HQ of the world's best-known toy company.
Here was this hotshot consultant from McKinsey, telling them what was wrong with LEGO, why it was a failing business, and how they were going to survive – under his leadership. Some of the board had been with LEGO for more than four decades, knowing unchanging growth year after year in a family-owned company that, since its inception in 1932, had achieved global fame.
Here, with his boyish enthusiasm for all things LEGO, his Harry Potter glasses, and only three years with the company under his belt, was their new CEO: aged just 36 and a former kindergarten teacher who'd left his pre-school job to study business.
The man who rescued LEGO
But cometh the hour, cometh the man, and Jørgen Vig Knudstorp, young as he was, proved to be just what was needed. Jørgen had joined LEGO from McKinsey three years earlier and sported impressive credentials – MIT, Harvard and a doctorate in economics. He had been hand-picked by Kjeld Kirk Kristiansen, grandson of the company's founder Ole, and was tasked with finding a strategy for LEGO in the new digital world.
By then, children were in thrall to PlayStation, Xbox and the rest, and had seemingly rejected traditional toys.
Jørgen delivered some painful home truths to his colleagues. LEGO had lost the plot. It had mislaid its mojo, gone off piste, and was now haemorrhaging almost $1 million every day. "We are on a burning platform," he declared, in case anyone had not got the message.
LEGO was on track to record a 30% drop in sales and bleed out a negative cash flow of more than $160 million. By the year's end the company could default on its outstanding debt of nearly $800 million. Takeover vultures were circling.
Where did LEGO go wrong?
In the 1990s LEGO had diversified, trying to become a lifestyle product, establishing theme parks and shops, putting its logo on T-shirts and watches, introducing a plethora of new products. Crucially, it had introduced toys that did not fit the brickbuilding system. It confused customers and dismayed the industry. A link with Star Wars had done well, but there was little focus on future development.
The Kristiansen family was shocked to hear that, compared to having simply invested their family fortune, by holding it in LEGO they had depleted it at the rate of nearly half a million dollars per day, every day for 10 years.
Kjeld had been impressed with the McKinsey man's strategic skills, his intense concentration on finding the root of LEGO's problems, and more important in the short term, his focus on making money again. In 2004 he stepped back and allowed Jørgen to take the reins.
Only the fourth CEO in 60 years, the new leader had loved LEGO as a child and instinctively understood the company's guiding spirit of creativity through play. Its very name was a combination of the first letters of the Danish words leg godt – 'play well'.
He took a cold, outsider's look at LEGO. It was a happy ship – that was wrong for a start. Jørgen decided there was dangerous complacency and misplaced confidence about, and made outward changes to alter inner perceptions. The posh head office was sold off, managers were moved to smaller premises and he drove to and from his office in a humble Citroën C5.
'Back to the brick'
Jørgen's first goal was productivity, not growth. More productivity equated to more profitability, and survival.
He cut 1,200 jobs, almost a quarter of the workforce at the time, and made a meticulous study of the market. It became obvious that one of the main problems was that LEGO had moved away from its core strength, so "back to the brick" became the mantra. "Get back to the simple things that make us unique" was another.
He discarded toys that had veered off the original track and the constructing, creative elements came back to the fore. They must not be too easy to assemble, either – a new line of cars he launched was only successful when they presented more of a challenge to build.
Production costs were slashed by standardising bricks, 30% of the lines were cut, the theme parks were hived off and easy-going managers and designers, so used to creating with scant financial consideration, now had to prove that every projected new toy could make a 13.5% profit. Guidelines were strict, but he knew innovation was still the key to staying afloat.
Tapping into the LEGO fanbase
Jørgen's culture encouraged 'thinking inside the box' – creating fresh toys that did not require expensive new elements. In his words: "Innovation flourishes when the space available for it is limited. Less is more."
LEGO managers began to work with the huge adult LEGO fanbase, held in disdain in the old days, and reaped the benefits of tapping into the global LEGO community. The company now crowdsources new toys – suggestions need 10,000 votes online – and if LEGO eventually produces the toy its inventor will receive 1% of the profits.
Through this method LEGO teamed up with the phenomenally successful Minecraft videogame franchise. A perfect match: Minecraft's virtual bricks married to LEGO's real ones.
Jørgen takes pains to "manage at eye level" as the Danes say, and moves around the offices constantly, talking to the teams. He notes suggestions from employees, fearing that he might be missing a vital piece of knowledge. He makes managers stand up in front of their peers every week and go through the figures, profit and loss.
As for his core customers, Jørgen is reassured that LEGO is not seen as old-fashioned, if it ever was: "Kids don't make the distinction between the digital and the non-digital like those of us who weren't brought up in the digital age. For them it's all just one experience," he told the Wall Street Journal.
'Everything is awesome'
LEGO is in rude health these days. Jørgen's refocusing has worked brilliantly; LEGO has just become the world's biggest toy company, with revenues up 11% in the first half of 2014. Total sales hit $2.03 billion, narrowly topping Mattel's $2 billion over the same period.
Then there is this year's The LEGO Movie, of course, in which everything is awesome, as the song goes.
The LEGO Movie has earned nearly $470 million at the box office and is an example of how Jørgen is innovating around the core concept, and of how LEGO has the confidence to hold back and let the filmmakers go to work. The movie is slick and funny, and the mini figures, the cars and the sets are all LEGO. You can pause the movie at any point and build everything you see.
Under Jørgen Vig Knudstorp, LEGO has found its mojo again. The brick is back.
Words: Gaythorne Silvester. Image: © Luke J Albert
More Strategies for growth...
Strategies for growth is our quarterly update for CEOs that explores ways businesses can navigate the current economic climate and unlock growth. Other articles in this issue include:
We'll also be posting a further selection of articles from Grant Thornton's Strategies for growth magazine so please do check back for more insights. Or you can read the full version in our digital magazine.
Subscribe to future issues
To subscribe to future editions of Grant Thornton UK quarterly newsletter for CEOs, register your details with us at strategiesforgrowth@uk.gt.com.
Συσχετίζεται επίσης με...